Educare
Located on the campus of Santee Elementary in San Jose's Franklin-McKinley School District, Educare of California at Silicon Valley (ECSV) is a high-quality early learning center where infants, toddlers, and preschoolers growing up in families facing the toughest odds can prepare to start kindergarten engaged, healthy, eager to learn, and ready to succeed.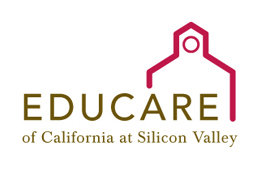 FIRST 5 Santa Clara County has been proud to stand with our partners to bring Educare to our community. FIRST 5 is part of a robust public-private partnership which has collectively raised more than $13 million for ECSV's capital campaign.
About Educare of California at Silicon Valley
The 28,000-square-foot ECSV facility houses 12 state-of-the-art early learning classrooms and multiple indoor and outdoor learning spaces that meet the developmental needs of children. These classrooms provide direct services to nearly 170 low-income children and their families, and an on-site family resource center will provide additional support for families and the community.

ECSV also houses a Teacher Professional Development Institute which trains early childhood education professionals through a scientifically proven approach with the goal of improving the quality of care and instruction in early care sites beyond the ECSV walls.

To learn more about ECSV, visit www.educaresv.org.